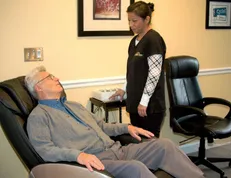 At ACT Wellness Center each team member is passionate about our mission and is truly dedicated to making sure our patients receive the very best possible care. We work and function together, drawing on each others strengths in order to serve in a way that makes every patient feel like they are right at home. Our friendly and professional team is here to help guide you on your path to health and wellness. We invite you to stop by and say hello!

Chiropractic Assistant - Caroline S.

Caroline S. believes in the balance of mind, body and spirit in order to maintain a healthy state of well-being. Having worked at a massage clinic for several years, Caroline S. has learned a lot about the human body and understands the benefits of Chiropractic care; she has spine checked on a regular basis. Caroline S. is a huge advocate of Chiropractic & wellness and will let everyone she knows or comes in contact with hear the benefits as well.
As a chiropractic assistant, she's is always smiling, and excited to meet new patients in the office! Often you'll find Caroline directing patients to be seen by Dr. Caratozzolo; as she handles many aspects of client care, including muscle stimulation, intersegmental traction and taking patients' blood pressure.
Caroline S. doesn't settle for anything less than extraordinary. On her time off, she enjoys spending quality time with her daughter.
Chiropractic Assistant - Caroline B.
Caroline B. has a special knack with making people feel right at home. She truly enjoys getting to know each of our patients and creating an environment where they feel heard and cared for.
Caroline B. niche is fitness. She enjoys teaching group fitness classes, and looks forward to working with others to help achieve their health and fitness goals. She believes in the perfect organization of the body and its innate ability to recover when properly aligned. She has witnessed miracles through the healing power of Chiropractic, and champions the desire for others to seek natural healthcare alternatives.
Besides being very hardworking and reliable, Caroline B. is always there to help any patient that comes in as well as her ACT Wellness family. Caroline B. is always a joy to be around and is eager to assist you in answering your questions.